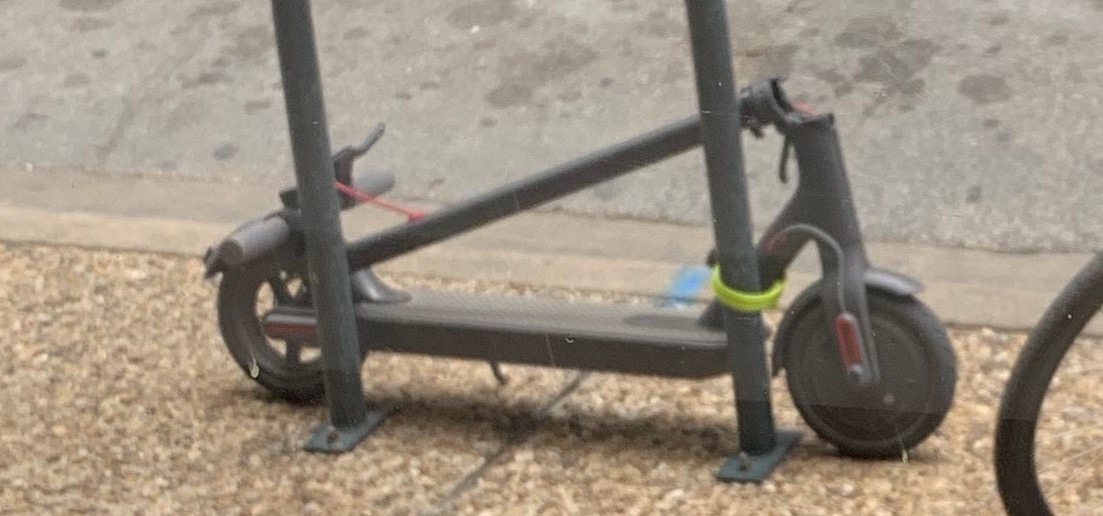 Electric Scooters
They look like toys
People riding them look like idiots
But then I rode one…
Hypothesis
I should sell my car & buy a scooter.
Conclusion
Keep your car. After scooting full-time for a year, I can confidently say that the scooter is great for daily commuting in a city (when it's not raining), but useless for anything else.
Update: Nevermind!
Approach
Sold car to friend 1 year ago
Ordered scooter online (here)
Hacked scooter to increase speed
Scooter broke in half, bought another
Scooter was stolen, bought another
Scooter had flat tire, gave up (wife got new car, I inherited her old one)
Pros
Parking. I never had to find a parking spot downtown, I just used bike-racks.
Availability. In order to depend on this for a daily commute, I couldn't rent, because they weren't consistently there.
Convenience – It feels like cheating to just step outside & start scooting – no getting into car, buckling up, circling to exit a garage, etc…
Speed - downtown, it's faster than driving, because you have both sidewalk & road options
Reduced Sweat – I live ~1 mile away from work, so I can walk or bike, but then I'm gross all day (especially in the Austin summers)
Smooth ride – the inflatable tires are a must-have, the hard-tire scooters are very uncomfortable.
Did I mention that it's incredibly convenient to just keep it at your desk all day?
Cons
People assume it's a rental. As I locked it to bike racks, I got the occasional "hey a**hole, those are for everybody!", and I have to explain how people can sometimes own things in America, if you work hard & save your money.
Cars hate you (too slow for the road)
Pedestrians hate you (too fast for sidewalks)
Cyclists hate you (like we're somehow not worthy of the bike lane)
You can't carry things easily. I would sometimes carry both my computer-bag and my gym-bag to work, and I could, but it feels ridiculous.
Maintenance sucks. Prepare to spend your weekends like this (flat tire):
or this (another flat tire):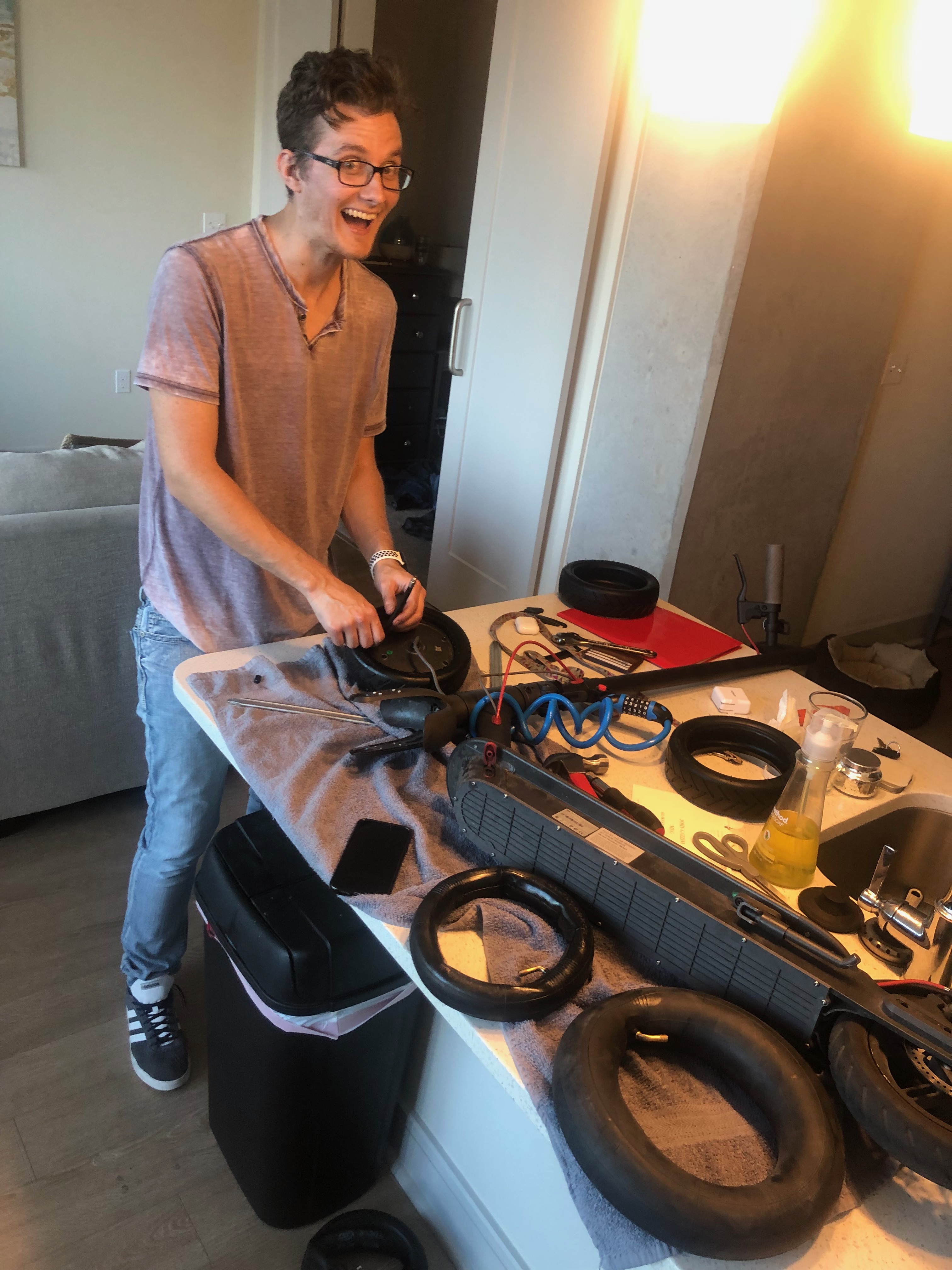 or this (I had to boot-cycle it by replugging the battery after the Xiaomi Mi bluetooth-lock-app thing broke).: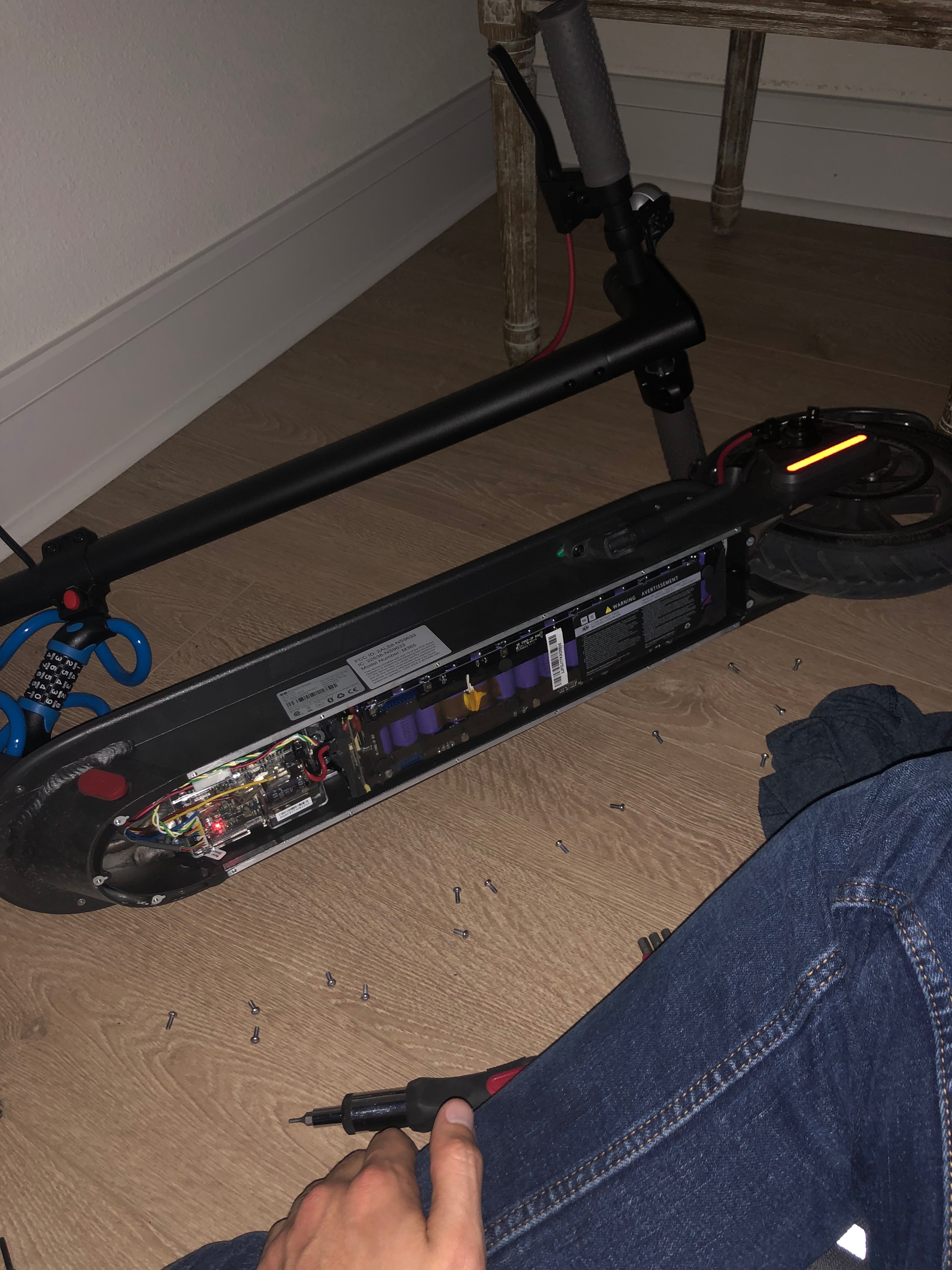 Opinions
The real issue with scooters is the novice, first-time riders. I'm talking about the drunk girls in flip-flops who decide to ride 2 people on 1 scooter. The guys who leave their air-pods in and floor it down the crowded sidewalk. You know, the renters. It's those 99% of scooter-ers that give us 1% a bad name!
The only thing that ever made me feel unsafe was when cars would pass me on the road – especially if there was no bike lane. For that reason, downtown was usually safer than a random 2-lane road in a neighborhood somewhere. Every now and then, cars seem to get really angry at the idea of a scooter on the road, and rather than just treat it like a bicycle (good idea), they'll roll down the window & yell at you, or intentionally drive really close to you, or (worst of all) give you mean looks 😱.
But, honestly… I get it. These things look ridiculous.